Let's welcome Erika Chase today. Her newest book Read and Buried was released on Dec 4th 2012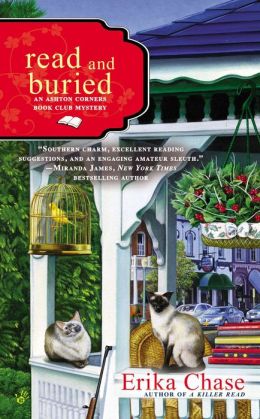 Synopsis:
Hosting an award-winning novelist is quite a Christmas coup for the Ashton Corners Mystery Readers and Cheese Straw Society. But when he's murdered in Lizzie Turner's house, she's got a holiday homicide on her hands …
For their very first guest author event, most of the book club members can't wait to pull out all the stops in Southern hospitality. But for Lizzie, Derek Alton is nothing but trouble—from his massive ego to his smarmy moves. When he's found murdered in her living room, it seems someone decided that this womanizing writer would be better off dead than read.
After suspicion falls on Lizzie's friend, she and her fellow book club members discover that Derek wasn't who he pretended to be. Cracking this case means going up against Lizzie's boyfriend, police chief Mark Dreyfus, and unearthing a novel's worth of nasty secrets. And as they get closer to uncovering Derek's scandalous final manuscript, someone hiding in plain sight is out to write finis to Lizzie's sleuthing for good…