I am so excited that Cate Price is joining us today! Read about her Favorite Towns for Cozies and leave a comment with your email for a chance to win her book Going Through the Notions!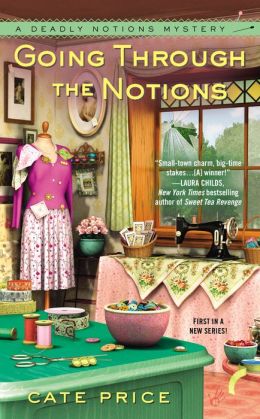 small towns and cozy mysteries
Small towns lend themselves well to cozy mysteries, with their quirky casts of characters and the local gossips who delve into everyone
else's business. It's
conceivable that a large number of people would know each other well,
perhaps even
their darkest secrets. It certainly helps our amateur sleuth gain a wealth of information quickly!
Small towns are interesting. I live in one
now
myself, and even though I've
been
here
for
fifteen years, I'm still something of a newcomer.
People will
say
they saw me
at such-and-such
a
location
walking my dogs
,
and I didn't even
realize
I was being observed. Of course, that might be because I'm
trailing
along in a daze, plotting my
next book, but it can be
disconcerting. Even
slightly
claustroph
ob
ic
at times
.
By the same token,
it's also very convivial
to know
so many neighbors.
No
robber could carry a TV out of my house without someone challenging them on the street!
Perhaps that's why the murder is such a shock. How could it happen right under
the
noses
of the residents of a sleepy
little
village
?
Especially when
the
crime is committed
not
by a serial killer or
a
vagrant psychopath, but
by
a member of that
close-knit
community
.
The
setting for
my Deadly Notions
Mystery
series is a fictional
village
called Millbury
in Bucks County
, PA
. I've taken
liberties with geography, but
it's
near
New Hope
,
just
off River Road
. I picked that location
because I wanted it to be close enough to Philadelphia and New Jersey to be a viable destination for interior designers, collectors
,
and antique dealers
who visit
my heroine's
s
hop
, but still have that small
-
town country feel
.
It's also loosely based
on Skippack, PA,
a historic
village
in Montgomery County
. Lik
e Millbury,
there are
art galleries, gift shops, restaurants
housed in nineteenth-
century buildings that were homes at one time
, and families who
have lived in the area for generations
.
Daisy Buchanan is a retired schoolteacher who owns a
wonderful
store called Sometimes a Great Notion. It's full of vintage sewing notions, antique children's toys, jewelry, fabrics, quilts, linens, and anything else that catches
her
fancy at an auction or yard sale. Everyone seems to congregate
there
for coffee in the mornings, and
it's
how
Daisy stumbles across a lot of her clues.
P
eople have long memories in a small town
,
and can hold grudges for years
, which may result in murders rooted in
past
events
.
Like the detective in my story says, "
In a small town like this, everything's connected.
It's l
ike
a
giant
spider
web touching everyone, and it's easy to get on each other's nerves."
The proverbial s
ix degrees of separation
is
pared down to two or three
, and I think a small town is
an intimate
setting that's
perfectly
ripe for secrets and intrigue.
Do you agree
? And what's your favorite setting for a mystery?
Cate
Price is the author of The Deadly N
otions M
ystery series
for
Berkley Prime Crime. GOING THROUGH THE NOTIONS was published
in
September 2013, and the second in the
series, A DOLLHOUSE TO DIE FOR will
coming
out on
May
6,
2014.
It was a pleasure having you here with us today Cate!