Just in time for Valentine's Day, my review of My Bloody Valentine. It is a short story collection of love and mystery.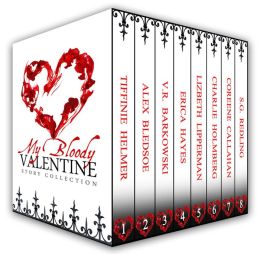 my review:
Wow! I started reading each of these books and couldn't put it down. It was intense and each book pulled me in wanting more. From the first story till the last one, I wanted to rescue the ones being hurt and hurt the ones who needed it! Each book held me captive from the start. Each main character was strong and likable and the story lines were so well written.
I enjoyed meeting the authors of these books and was glad to be part of reading them for review.
Meet the Authors of this Collection:
Tiffinie Helmer
Alex Bledsoe
V.R. Barkowski
Erica Hayes
Lizbeth Lipperman
Charlie Holmberg
Coreene Callahan
S.G. Redling
I got this short story collection as a gift from Liz Lipperman for my honest review and I am giving it a 5 star review.