Beverly Allan has a brand new book out. It's called Bloom and Doom and was released on April 1st.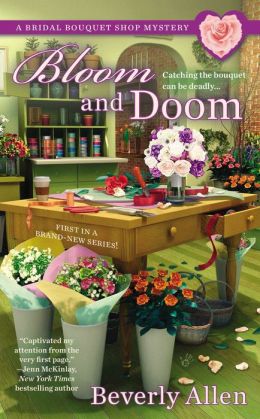 my review:
This is the perfect book to start your spring reading! This first in the new Bridal Bouquet mystery is a delightful read. Beverly introduces you to Audrey Bloom and her cousin Olivia Rose. They own Rose in Bloom floral shop. Audrey is a wedding bouquet designer and has study what each flower means, which she uses in her business to make the perfect floral bouquet for brides and brides maids.
It's spring time in Ramble Virginia and Jenny and her mom are at the shop looking into flowers for Jenny's wedding to Derek. Everything has to be just right for this wedding. So when Derek is found dead in his car and Jenny is arrested for his death , Audrey works hard to find out what really happened and clear Jenny's name.
Beverly has created a strong cast of characters and a story plot that keeps you reading from the beginning to the end. The atmosphere of the town and characters are well developed and this book is a fantastic read. I enjoyed learning about the different flowers and what they mean. I look forward to more in this series.