Happy Wednesday Everyone!!!!!!!
Our Spotlight today goes out to Janet Bolin.. Janet is the fabulous author of the Threadville Mysterires.
Her newset book in the series is Thread and Buried
overview:
n Threadville, Pennsylvania, known for its textile art courses and shops, everyone's stories are connected by a common thread—even the ones ending in murder…

Every town has a legend. For Threadville, it's the story of Snoozy Gallagher, the hotel owner who disappeared thirty years ago with a bag full of stolen jewelry, never to be heard from again. That is, until now—when Snoozy's loot is discovered buried behind Willow Vanderling's embroidery shop In Stitches.

When villagers mysteriously become ill, and a body shrouded in materials from Threadville shops appears in the exact spot where the treasure was—along with two abandoned kittens—Willow needs answers. The random events are too coincidental to be unrelated, but Willow will have to act quickly to unravel the deadly mystery, or she might get tangled up as the killer's next victim…
INCLUDES ORIGINAL MACHINE EMBROIDERY PROJECT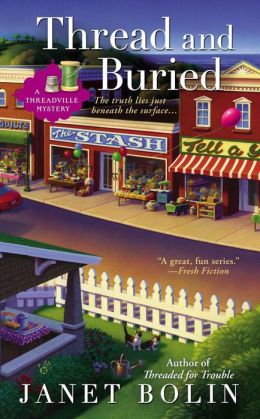 Thank you Janet for bringing this series to life, I have enjoyed the journey and look forward to reading the next one!
Have you all read this series? Tell us your thoughts here.