It's December 3rd and that means Cozy Mysteries have been released for hours of reading fun! And what better time to release them just a few weeks before Christmas. They make the best gifts ever.
Murder She Barked by Krista Davis
FIRST IN A NEW SERIES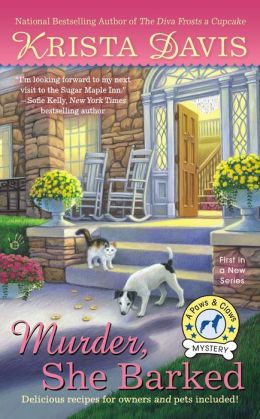 The Sugar Maple Inn in Wagtail, Virginia, is the country's premiere vacation hot spot for pet owners who can't bear to leave their furry friends behind. But this tourist town smells trouble when a killer goes on the prowl....
Holly Miller's life has gone to the dogs. She has no job, her boyfriend's former flame is sniffing around, and a scruffy but loveable Jack Russell Terrier is scattering crumbs all over her borrowed car. Just when she thought things couldn't get worse, a troubling phone call about her grandmother sends her rushing home to the family inn on Wagtail Mountain.
The staff—and a frisky Calico kitten named Twinkletoes—adopts Holly and her new dog on arrival. But someone in this friendly town is bad to the bone. One of the employees at the inn has been killed in a hit-and-run accident—which is looking anything but accidental. Now Holly and her furry companions will have to nose out the murderer before someone else gets muzzled.
Delicious recipes for owners and pets included!
Merry Market Murder by Paige Shelton
Bailey's Farmers' Market is this season's go-to holiday destination, but not all the vendors are feeling the Christmas spirit...
Jam and preserve maker Becca Robins is excited about the extra business that the Ridgeway Christmas Tree Farm is bringing to the market this holiday season. But when a competing tree farmer, Reggie Stuckey, arrives with a truck full of trees, angrily barking that he has exclusive selling rights at the market, Becca finds herself pining for more goodwill toward men.
After Reggie is found with a tree stake in his chest, she wonders when the Christmas tree business turned so deadly. Now Becca has to use the only clues she has to the killer's identity—mysterious ornaments that begin to show up in her stall—to hook a sinister Scrooge who will go to any lengths to drive home a point….
Billionaire Blend by Cleo Coyle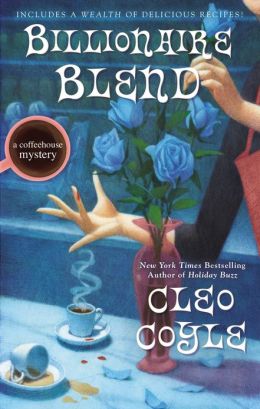 Landmark coffeehouse manager Clare Cosi has served her share of New York's rich and famous, but even she is surprised by her explosive introduction to a mysterious Internet billionaire…
When a car bomb nearly kills tech whiz Eric Thorner, Clare comes to his aid and receives a priceless thank you. Not only does the billionaire buy her a barista's dream espresso machine, he hires her for an extraordinary project: creating the world's most expensive coffee blend.
The police quickly arrest Eric's alleged attacker, yet death continues to surround the unlucky mogul, leading Clare to question whether a fatal fall and another lethal mishap are premeditated murders or merely freak accidents. Clare's boyfriend, NYPD detective Mike Quinn, has a theory of his own—one Clare refuses to believe.
Meanwhile, Eric jets Clare around the world on a head-spinning search for the very best coffee, and Clare gets to know his world—a mesmerizing circle of money with rivalries that could easily have turned deadly. But is this charming young CEO truly marked for termination? Or is he the one making a killing?
Includes a wealth of delicious recipes!
Lending a Paw by Laurie Cass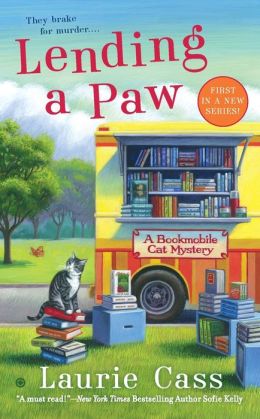 With the help of her rescue cat, Eddie, librarian Minnie Hamilton is driving a bookmobile based in the resort town of Chilson, Michigan. But she'd better keep both hands on the wheel, because it's going to be a bumpy ride…
Eddie followed Minnie home one day, and now she can't seem to shake the furry little shadow. But in spite of her efforts to contain her new pal, the tabby sneaks out and trails her all the way to the bookmobile on its maiden voyage. Before she knows it, her slinky stowaway becomes her cat co-pilot!
Minnie and Eddie's first day visiting readers around the county seems to pass without trouble—until Eddie darts outside at the last stop and leads her to the body of a local man who's reached his final chapter.
Initially, Minnie is ready to let the police handle this case, but Eddie seems to smell a rat. Together, they'll work to find the killer—because a good librarian always knows when justice is overdue.
FIRST IN A NEW SERIES!
Home for the Homicide by Jennie Bentley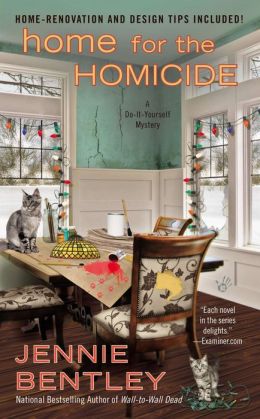 Avery Baker was a big city textile designer, until she inherited her aunt's old Maine cottage and found her true calling—home renovation. But she never expected her latest job would come to such a bone-rattling dead end...
For Avery and her husband Derek, renovating the Craftsman Bungalow was like stepping back in time. The quaint old home was just as its original owners had left it—from the beautiful butler's pantry to the surprisingly exquisite ribbon tile. But it's the attic that yields the most heart-stopping surprise.
In a discreetly hidden antique crate, Avery finds a clue to a decades-old missing persons case. As Avery works on the house and delves deeper into the sinister story, it becomes clear that someone very crafty wants the Craftsman home's secrets to stay that way!
Home for the Haunting by Juliet Blackwell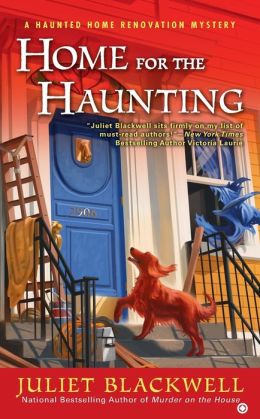 No good deed goes unpunished.
San Francisco contractor Mel Turner is leading a volunteer home renovation project, and while she expects lots of questions from her inexperienced crew, she can't help asking a few of her own—especially about the haunted house next door…the place local kids call the Murder House.
But when volunteers discover a body while cleaning out a shed, questions pile up faster than discarded lumber. Mel notices signs of ghostly activity next door and she wonders: Are the Murder House ghosts reaching out to her for help, or has the house claimed another victim?
Now, surprised to find herself as the SFPD's unofficial "ghost consultant," Mel must investigate murders both past and present before a spooky killer finishes another job.
Buttoned Up by Kylie Logan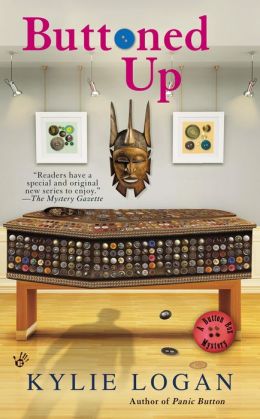 For Josie Giancola, owner of the Button Box shop, every button is a tiny work of art with its own story to tell—a story that just might end in murder…
Artist Forbis Parmenter has invited Josie to the opening of his latest exhibit of voodoo-inspired works. He plans to make a show of completing the centerpiece—a button- encrusted statue—when Josie arrives with the final button. But just as the big moment comes, Forbis bolts out of the gallery in panic. Is it another of his publicity stunts, or is something more sinister afoot?
Josie gets her answer when the eccentric artist is found dead—his lifeless body in the arms of a statue and his eyes and lips sealed with buttons. Now she's using her expert eye to solve the mystery before a crafty killer slips through her fingers.
Includes tips on antique-button collecting!
The Sayers swindle by Victoria Abbott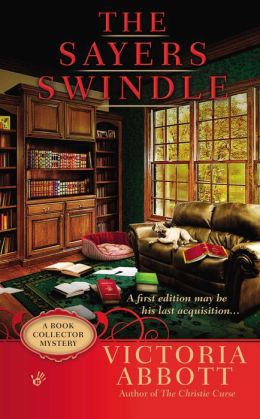 Jordan Kelly is delighted to make money tracking down rare and valuable mystery novels for her employer, Vera Van Alst, an avid collector and the most difficult woman in Harrison Falls, New York. But now her boss's complete set of Dorothy Sayers is missing, and finding them may lead Jordan to a murder suitable for Sayers's esteemed sleuth, Lord Peter Wimsey…
When Jordan manages to locate her boss's missing books, they are in the possession of Randolph Adams, an elderly man in a nearby town. Offering a valuable Hemingway first edition as an incentive, Jordan thinks she's about to seal the deal—but some of Randolph's relatives think he should hold out for more.
Then the entire family disappears—and a dead body shows up. It's up to Jordan to collect the clues—and make sure a killer gets booked.
Staged to Death by Karen Rose Smith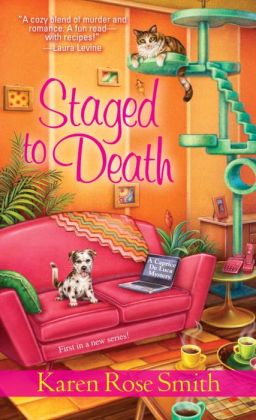 Interior designer Caprice De Luca has created a profitable subniche by becoming a home stager for clients preparing to sell their homes. Recently, Caprice has been working with an old friend, Roz, and her husband, Ted. Their castle-motif home features Ted's extensive knife and dagger collection. Unfortunately, one of those valuable daggers is used to kill him off. Disagreeable Ted had plenty of enemies: he was having an affair, his company has problems, and even the gardener hated him. Roz begs Caprice to help since the police suspect her, so Caprice starts poking around. Thanks to Caprice's large family and small-town connections, the clues pile up. In classic amateur fashion, there's a fair amount of blundering, but two good-looking guys, a couple of sisters, and a cooperative police department all make it work out. VERDICT Prolific series author Smith (Marrying Dr. Maverick) shows her romance chops with her debut cozy mystery set in small-town Pennsylvania. Her mystery plot leaves readers in the dark for a few too many pages, though, leading to a sudden, abrupt ending. That said, the ensemble cast is charming.
The Vanishing Thief by Kate Parker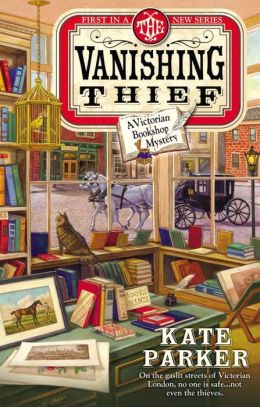 Georgia Fenchurch appears to be an unassuming antiquarian bookseller in Victorian London, but the life she leads is as exciting as any adventure novel. For Georgia is a member of the Archivist Society, a secret association of private investigators led by the mysterious Sir Broderick.
When a frantic woman comes to Georgia claiming that her neighbor, Nicholas Drake, has been abducted by the notorious Duke of Blackford, Georgia and the Archivist Society agree to take the case. But Drake is no innocent—he is a thief who has been blackmailing many of the leading members of London society. To find Drake and discover who is behind his abduction, Georgia and her beautiful assistant, Emma, will have to leave the cozy confines of their bookshop and infiltrate the inner circles of the upper crust—with the help of the dashing but dubious Duke of Blackford himself.
But the missing thief and his abductor are not the only ones to elude Georgia Fenchurch. When she spies the man who killed her parents years ago, she vows to bring him to justice once and for all…at any cost.
Add these to your list for gift giving this Holiday!!