Happy Thanksgiving everyone! I am so thankful for Julie Hyzy and her first in the White House Chef Series.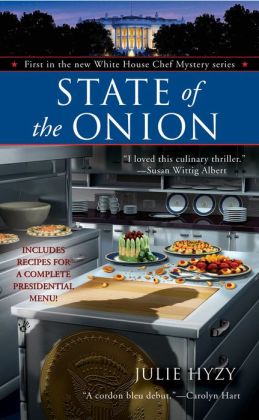 Introducing White House Assistant Chef Olivia Paras, who is rising-and sleuthing-to the top.
Includes recipes for a complete presidential menu! Never let them see you sweat-that's White House Assistant Chef Olivia Paras's motto, which is pretty hard to honor in the most important kitchen in the world. She's hell-bent on earning her dream job, Executive Chef. There's just one thing: her nemesis is vying for it, too. Well, that and the fact that an elusive assassin wants to see her fry.
I love Olivia , she is a great character and you will be drawn into this book fro the beginning. Oh yeah , and with Christmas being a few weeks away , this would make a good gift.
I am thankful for the many fun hours of reading that Julie has provided with this book and series. You still have time to read this one before her newest one in the series comes out in January 2014.