Happy Thursday to you! It's Thursday First and today we have A Long Quiche Goodbye( A Cheese Shop Mystery) by Avery Aames.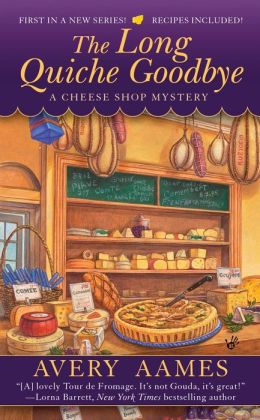 Overview:
Welcome to the grand opening of Fromagerie Bessette. Or as it's more commonly known by the residents of small- town Providence, Ohio-the Cheese Shop. Proprietor Charlotte Bessette has prepared a delightful sampling of bold Cabot Clothbound Cheddar, delicious tortes of Stilton and Mascarpone, and a taste of Sauvignon Blanc-but someone else has decided to make a little crime of passion the
piece de resistance
. Right outside the shop Charlotte finds a body, the victim stabbed to death with one of her prized olive-wood handled knives.
Have you read this book? Leave a comment and tell us what you thought of it. If you haven't read it there is still time to catch up in the series. follow the link below.
http://www.amazon.com/Long-Quiche-Goodbye-Cheese-Mystery-ebook/dp/B003NX7OD2/ref=sr_1_1?ie=UTF8&qid=1389987231&sr=8-1&keywords=a+long+quiche+goodbye