Happy Friday! Today I am reviewing Beewitched by Hannah Reed and I must say that I loved everything about this book.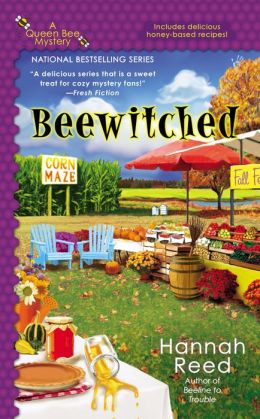 I love the cover, what a great picture of fall and so inviting. Hannah Reed is a fantastic author and she pulls you in and makes the characters so real and the town come to life. Story Fisher is a Bee Keeper and has a very busy time with getting her bees set for winter and her mom is getting married and running her store she is going non-stop trying to keep everything together. So the last thing she needs is a witch to be found murdered in a corn maze. Her new neighbor is also a witch and has the town in a a frenzy. Story and her boyfriend Hunter are on the case trying to find out who the killer is before the wedding.
If you haven't read this series yet. my only question is Why Not? I have enjoyed every minute of this series and being part of the characters lives. You feel right at home right from the first book all the way to the fifth one! Can't wait for the next one.
Thank you Hannah for introducing me to Story Fisher!
If you haven't gotten this book yet here is the link to get it. You won't want to miss it.
http://www.amazon.com/Beewitched-A-Queen-Bee-Mystery/dp/0425261611/ref=sr_1_1?ie=UTF8&qid=1391726732&sr=8-1&keywords=beewitched