I am so happy to have guest posting with us today, The Lovely Sheila Connolly and she is talking about Ireland.after reading this post and seeing the pictures, I now want to go to Ireland.
I love Ireland. I fell in love with it the first time I visited, and I very strategically came up with a reason to visit as often as possible—by setting my third series, the County Cork Mysteries, in the Wild West of Cork, where my Connolly grandfather was born.
The second book,
Scandal in Skibbereen
, comes out on February 4th. A quick summary of the story: Much to her surprise, Maura Donovan has inherited a pub called Sullivan's in a tiny village in West Cork, and now she's trying to run the place. She's just beginning to feel comfortable with it when pushy New Yorker Althea Melville arrives, hot on the trail of a long-lost Van Dyck painting that she thinks might be in the local manor house.
Maura, with the help of some friends, finds a way to get Althea into the house, but then the gardener is found dead on the lawn, and Althea is a likely suspect and now barred from the manor. But somehow she wheedles Maura and her friends to keep looking for the painting—and to help solve the murder.
I had so much fun writing this story! There's the crumbling manor house, where tea is served by the live-in servants—and where the killer is revealed when all parties assemble in the drawing room. Okay, that part is a shameless tribute to both Downton Abbey and the golden age of mysteries. But the book is also about small-town Ireland, where the "big" town Skibbereen (five miles down the road) has fewer than three thousand residents, and the garda (police) force consists of eight people—and where the district has had only three murders in the past decade (I asked).
I use as much reality as possible—why make it up when there's so much to draw on right in front of me? Sullivan's pub is based on one that used to be called Connolly's, now closed, but the owner, Eileen Connolly, has shared many details about how a woman manages a pub in Ireland, over a cup of tea in her parlor behind the pub, me with her cat on my lap and her Irish Wolfhound basking by the fire (ain't research grand?). Maura ends up living in a house modeled on the one built in 1907 by a great-uncle of mine (my grandfather, born a couple of miles away, was the youngest of ten children), and her nearest (fictional) neighbor, Bridget Nolan, lives in a (real) tiny cottage just down the lane. The bog where the body was found in the first book of the series,
Buried in a Bog
, lies at the bottom of that lane—and belonged to my great-great-grandfather.
When I'm in Ireland I take pictures—of everything. Mushrooms. Cats I meet on the street. Pretty views (no shortage there). Cemeteries. Ancient monuments. Food (the supermarket in Skibbereen is amazing! So is the fish market in Union Hall, across the harbor, where the boats dock across the street.) Rainbows. Sometimes I have trouble believing that it's real, but it is. I collect them all and then I use as much as I can in the books. One
example: Maura finds a friend in a summer artist who lives in the former creamery on Ballinlough (a small lake). The creamery is real and actually is blue (as it is in the book), and it's right down the hill from where Maura, lives, and also close to the grammar school my grandfather attended (now someone's summer home). Hmm—fact and fiction get a little muddled here.
What is also delightful about writing a series set in Ireland is that you quickly find that everyone knows everyone else and their entire family history; the crime rate is low, which makes any death that much more significant; and the people there are great—and willing to answer all my stupid questions. I've learned so much! And I'm delighted that Berkley Prime Crime will keep the series going for at least a few more years, because I plan to keep going back to Ireland.
Thank you for being with us today Sheila, it was great getting to know you and some about Ireland as well. I love this series and enjoyed being able to visit Ireland through you and your amazing books.
Her books that are Ireland based are: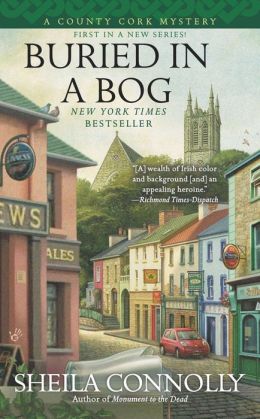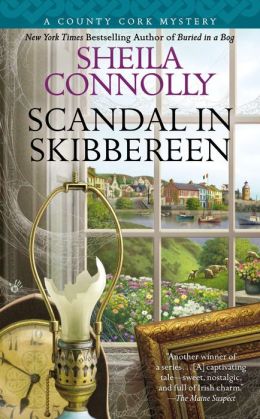 Pick them up today and have a little vacation of your own!