Happy Monday! Hope it is going well with you. Today we are getting to know Peg Cochran! So glad to have you with us today.
What is the one article of clothing you consider your go to comfy clothes?
Probably the first thing I reach for when I want to be really comfy is a pair of "sweat pants" that my daughter gave me for Christmas. They're drawstring waist but don't have the elastic in the cuffs -- they're wide legged at the bottom. So cozy! I also have two sweatshirt-like tops with a zipper neck that are nearly threadbare they've been worn so much. That's my "around the house" outfit.
What is your absolute favorite comfort food?
This is a tough one! I"d have to say soup...I have a few favorites like homemade (has to be homemade) pea soup, a chicken and rice soup I make and a variation on the Portuguese soup "caldo verde" that I put turkey sausage, white beans, ditalini pasta, potatoes and spinach in. It's almost more stew than soup!
Do you enjoy a glass of wine and if so what is your favorite?
Yes, and sometimes I enjoy the whole bottle. <g> I was always a red wine drinker, and still like a nice Merlot or Shiraz with a meal, but lately I've switched to Chardonnay with plenty of ice and sometimes a splash of seltzer. It makes a nice, light "cocktail."
What is your favorite place to escape to for time alone?
The library! Ours is new and super comfortable with a gas fireplace, upholstered rocking chairs and a huge selection of magazines. Heaven!
Do you have a favorite place that you and your girl friends go to have a night out?
I
t has been years since I had a night out with the girls. Must remedy that soon! I used to enjoy girls' weekend when I lived in NJ. My girlfriend's parents had a house on Long Beach Island and three of us would get together for a long weekend to enjoy the beach, read books, talk, talk some more, eat a lot and oh, drink pineapple vodka martinis! And I won't tell you about the time we were about to go out after a couple of those martinis, and my girlfriend had her dress on inside out...
Thank you so much for letting us get to know you more. I enjoy all of your books and look forward to many more.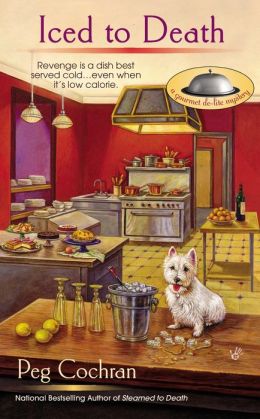 Gourmet De-Lite Mysteries - Iced to Death 3/14
The Lucille Mystery Series - Confession Is Murder OUT NOW!
The Cranberry Cove Series - coming soon!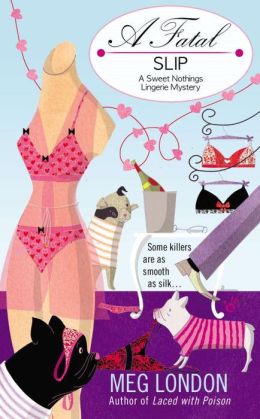 Sweet Nothings Lingerie Series - Fatal Slip 2/14