I am so pleased to be trying something new on here today. It's Saturday Book Trivia!! My guest author is Gretchen Archer and she has come up with some trivia about her book Double Whammy!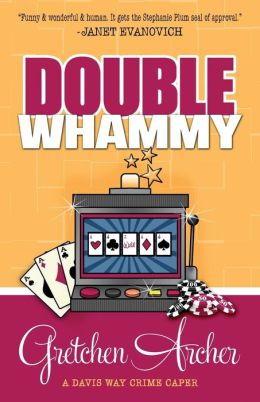 1. Davis Way's sister Meredith owns a curiosity shop in Pine Apple. What is the name of Meredith's store?
a. Pine Apple Upside Down Treasures
c. The Little Shop on Banana
2. Davis Way has two undergraduate degrees from what school?
b. Louisiana State University
c. University of Alabama at Birmingham
3. Davis goes blonde at the Salon du Beau Monde in New Orleans. Who's her stylist?
4. Bradley Cole is an attorney for
5. The name of the game is--
a. Double Whammy Double Bonus
b. Double Whammy Dueces Wild
c. Double Whammy Joker Bonus
6. Davis, sadly, is thrown in the pokey. What name is she booked under?
7. Before George Morgan was a friendly cab driver in Biloxi, he was a—
a. Blackjack dealer in Las Vegas
b. A police officer in Las Vegas
c. An agent with the NBI, the Nevada Bureau of Investigation
8. Davis is allergic to--
9. No Hair's real name is--
10. Davis becomes friends with retired school-teacher sisters at the Bellissimo. Their names are--
Answer all of the questions correctly and you will be entered into the drawing for a chance to win.. A Kindle Paper White and signed copies of her books Double Whammy and Double Dip( her newest one) !!!
Here is where you can buy the book!