Happy Friday to you! Today I am reviewing The Silence of the Library by Miranda James. This is the 5th Cat in the Stacks book in the series and if you haven't gotten to know Charlie and his Maine Coon cat Diesel, I encourage you to get this series and jump right in . You will be hooked from the start.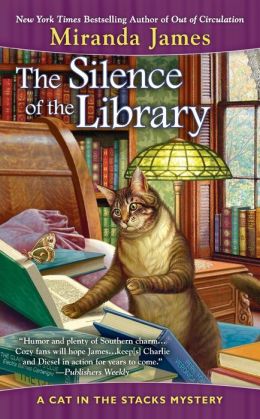 Miranda James has really brought this book to life and draws you into a welcome atmosphere and friendly faces.With the planning of the Library Week event Charlie is excited to meet Electra Barnes Cartwright,who happens to be his favorite author of the Veronica Thanes mysteries. He wants everything to run smoothly but when other fans of hers become demanding and more pushy things don't quite goes as planned. Charlie and Diesel are at it again when they attempt to solve a murder again.
This was such a fun read on a cold day as it has been here.
Have you followed this series? What do you love most about it!