Happy Monday to you! It is such a pleasure to have with us today the Lovely Connie Archer!! With the weather so cold and sometimes dreary this post is perfect for today! Yep she is dishing about Soup!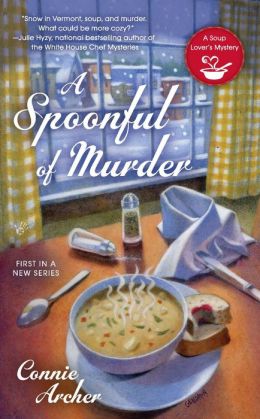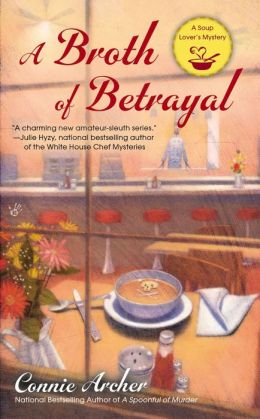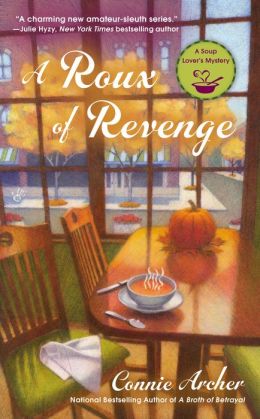 A very special thank you to Shelley for inviting me to her blog today.
I thought I'd share my recipe for what I'm now calling Influenza Stew with everyone. Sounds enticing, doesn't it? Well, that's what I was forced to make today because my nose is running, I can't stop sneezing, and I feel as if I were kidnapped by aliens during the night and forced to do hard labor. I hurt all over and to make matters worse, yesterday I procrastinated and didn't go to the market. The thing I wanted most today was a bowl of really hearty soup and then bed, in that order.
The contents of my refrigerator were really pathetic. I found half an onion, one clove of garlic, a limp zucchini and a couple of carrots in the vegetable drawer. I checked the freezer – three frozen sausages and a small bag of frozen spinach. I did have some cans of diced tomatoes and grated cheese and about a cup of squiggly pasta left in the cupboard. Hmmm . . I thought, what to do? Throw a coat over my jammies and go to the store? I don't think so. Not today. My throat hurts, my head hurts, my skin hurts. I need vitamin C and I need soup!
So here's what I did – I chopped the onion and garlic and sauted them in a little bit of butter. Then I squeezed the meat out of the casing of the three defrosted sausages and sauted the mixture until the meat was slightly browned. I added a can of undrained diced tomatoes to the mix, plus about three cups of water and two cubes of vegetable bouillion. Then I chopped up the carrots and put those in the pot. I simmered everything for about ten minutes, till the carrots were cooked, then added the chopped zucchini and a cup of the squiggly pasta. After that I threw in a handful of frozen spinach (parsley would have been better but I didn't have any, but the spinach was fine too). Oh, and I added a tablespoon of oregano and a tablespoon of basil. I simmered everything for about fifteen minutes just until the pasta was cooked. And it was delicious! So please read on for a better organized recipe.
½ or ¾ pound bulk sausage meat
3 cups of vegetable or beef broth
1 14 oz. can of diced or crushed tomatoes
2 -3 carrots, peeled and chopped
1 cup chopped parsley or spinach
Saute the garlic, onion and sausage meat in a large pot in butter until the meat is slightly browned. Add the broth (vegetable or beef). Add the chopped carrots and tomatoes (undrained) and the basil and oregano. Bring to boiling and reduce heat. Simmer, covered about 10 minutes. Then add the chopped zucchini and parsley (or spinach) along with the pasta and simmer, covered, for 10 or 15 minutes more, just until the pasta is cooked. Add salt and pepper to taste. Sprinkle grated cheese over each serving.
My advice -- get to the store and stock up before the bug hits! Here's hoping you enjoy my flu season survival stew!
Connie Archer is the national bestselling author of the soup lover's mystery series from Berkley Prime Crime. A Spoonful of Murder, A Broth of Betrayal and A Roux of Revenge are set in the imaginary village of Snowflake, Vermont. The fourth book in the series will be released in April 2015.
Connie was born and raised in New England. She now lives on the other coast.
So confession time, after reading this amazing post, How many of you are going to be making soup this week? Are you going to try this stew? What is your favorite soup? Leave a comment here, we would love to hear from you!