Happy Sunday Everyone!!!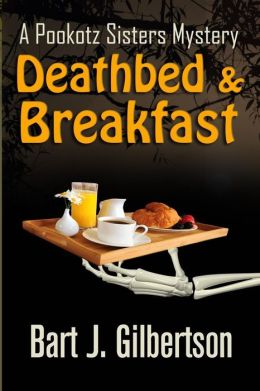 Overview
Richard Forester, a retired CEO for a major software company, and his granddaughter Penny show up at the Pookotz Bed & Breakfast one evening and find themselves in some rather unpleasant company. All the guests somehow seem to be connected to Richard's past and when he is found dead the next morning, everyone is suspect. However, there are a few wrinkles that the inn's owners Edna and Mildred Pookotz need to iron out as the investigation unfolds. Not only was Richard deathly ill, but he was also accused of embezzling $750,000 which is still unaccounted for. The local Sheriff suspects that this victim's death is not a natural one, so he--and the sisters--set forth to discover who the murderer is.
my review:
Bart Gilbertson has written such an intriguing and fast-paced whodunit story. He pulls you into the story right from the start where you immediately you are drawn to each one. when the murder of Richard takes place you get pulled into finding out who did it when everyone could have. Richard was already sick to begin with but the sherrif isn't convinced that this was a death of natural causes. read this exciting book and find out what happened to Richard and why.
Thank you for letting me be a part of this tour. I hope that everyone who loves a great mystery will go out and get this book, you will have hours of fantastic reading.
Deathbed & Breakfast
Now Touring – Deathbed & Breakfast with Bart J. Gilbertson