Happy Release Day to Miranda James! The Silence of the Library (Cat in the Stacks Series book 5) is here!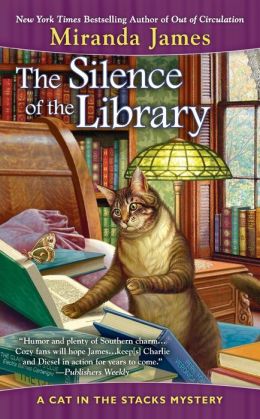 Isn't that a great cover? Have you read this series?
Overview
Everyone in Athena, Mississippi, knows Charlie Harris, the librarian with a rescued Maine coon cat named Diesel. He's returned to his hometown to immerse himself in books, but a celebrated author's visit draws an unruly swarm of fanatic mystery buffs…and one devious killer.
It's National Library Week, and the Athena Public Library is planning an exhibit to honor the centenary of famous novelist Electra Barnes Cartwright—creator of the beloved Veronica Thane series.
Charlie has a soft spot for Cartwright's girl detective stories (not to mention an extensive collection of her books!). When the author agrees to make a rare public appearance, the news of her whereabouts goes viral overnight, and series devotees and book collectors converge on Athena.
After all, it's rumored that Cartwright penned Veronica Thane stories that remain under wraps, and one rabid fan will stop at nothing—not even murder—to get hold of the rare books….
Leave a comment and email for a chance to win this book!